On the hunt for the most affordable hotels near LEGOLAND Dubai? Look no further than Rove At The Park, where theme park fun is just a stone's throw away from our hotel! Here's all you need to know about what you can look forward to when choosing to stay at Rove At The Park.
Rove hotels near LEGOLAND Dubai
Amusement park fun and adventure await when you stay at Rove At The Park. Rovers will be placed right on the doorstep of Dubai Parks and Resorts, the Middle East's largest integrated theme park destination where LEGOLAND Dubai can be found. Our hotel gives you value for money, with some of the most convenient in-room and hotel facilities available making your stay a memorable one that doesn't require you to break the bank.
Rove At The Park offers a choice of Rover Rooms that include Family Interconnecting Rover Rooms for families staying with us. This makes it even more convenient for Rovers visiting us with their little ones, with these rooms accommodating up to 4 adults and 2 kids.
Our Rover Rooms also offer an in-room mini-fridge, a 48" Smart TV, and cozy designer beds for when you need to catch some sleep after a long day of amusement park fun. All our rooms are also fully air-conditioned to keep you comfortable and cool in the blistering Dubai climate.
On-site facilities at our hotel include a well-equipped 24-hour gym, a communal games area, an on-site restaurant called The Daily for lip-smacking breakfasts, lunches, dinners and snacks, and an environmentally-friendly saltwater outdoor pool and sun deck.
If you are planning to squeeze some business into your vacation time, then our coworking space beckons you to get down to it. Rove's coworking spaces are fully kitted with iMac computers, 220V universal power sockets, and USB outlets to keep you charged and online. High-speed WiFi is also available throughout the hotel.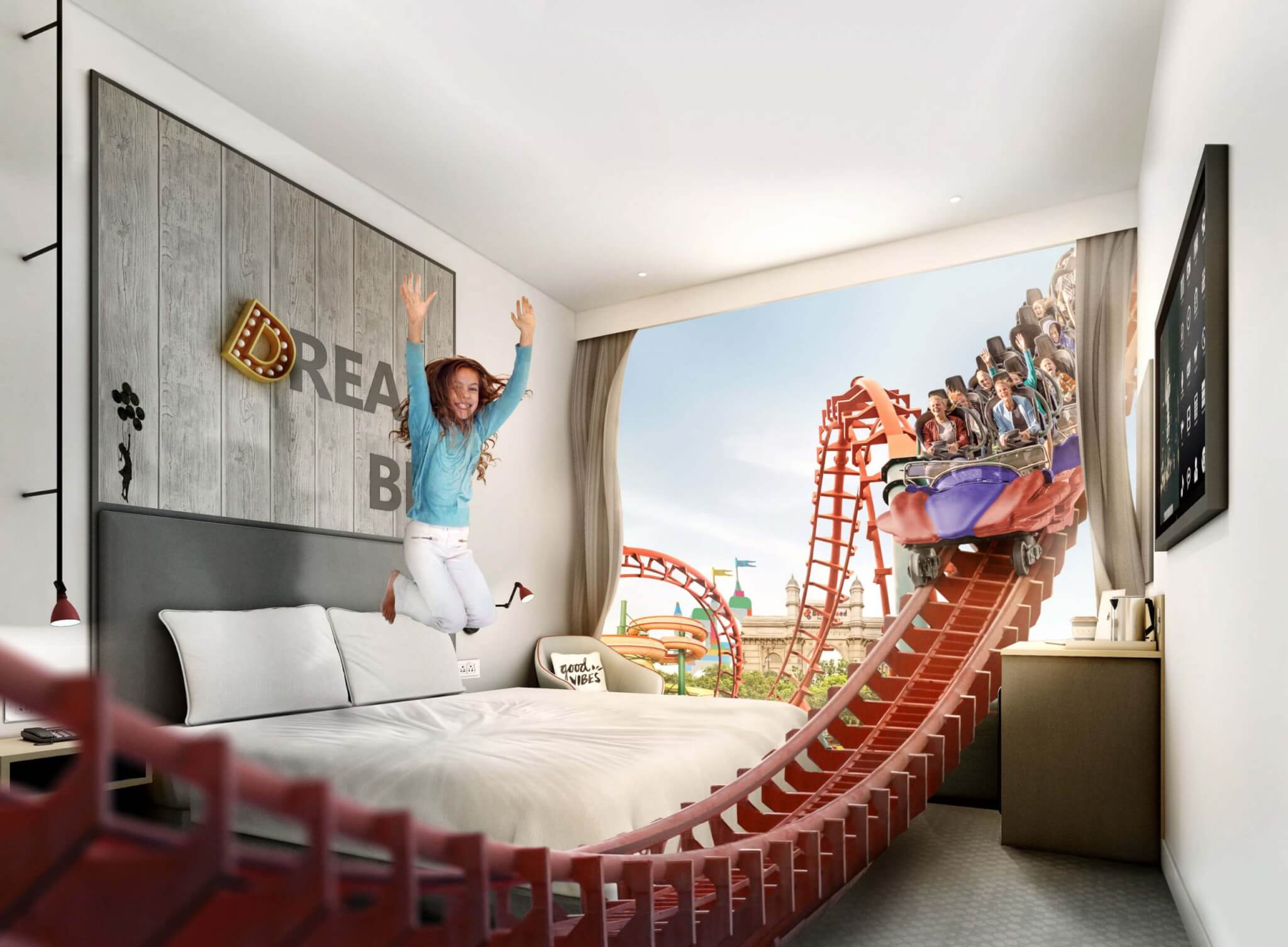 Discover unmatched encounters at LEGOLAND Dubai
Little Rovers aged 2 to 12 years old will be able to enjoy various thrilling activities at LEGOLAND Dubai. This family-friendly amusement park is situated within Dubai Parks and Resorts, boasting over 40 LEGO-themed rides, shows, and building attractions and experiences. Families with little Rovers can head down to the LEGO Factory where they'll get to witness how LEGO bricks are actually made. Here is also where you can make a pitstop at The BIG Shop, the Middle East's largest LEGO store selling fun and memorable items for purchase.
LEGO City is where kids can earn their very own LEGOLAND Driving License, fly a plane, steer a boat and even try their hand at saving a "burning" building. Gather little Rovers for some teamwork and fun!
Another area to visit at LEGOLAND Dubai is called Imagination, and it's fit for all LEGO fans! Race LEGO cars, construct with LEGO MINDSTORMS robotics and hop on the LEGO Technic Twister for a whirlwind of adventure like never before. The Kid Power Towers is the true test of strength, where children can climb their way to the top for a view of the Park before bracing themselves for a gentle free fall to the bottom.
Adventurous Rovers will enjoy a trip to Kingdoms, a medieval land where they will get to conquer the thrilling Dragon Coaster in the King's castle, ride the Dragon's Apprentice, or get together with their families for a swirling adventure around Merlin's Challenge. A host of excitable rides and attractions are waiting to welcome you and your mini me's!
Adventure is the following pitstop location at LEGOLAND Dubai, where little explorers and their parents can look forward to a captivating underwater submarine encounter. Dodge the water blasts while you tackle the Wave Racers power ski experience before embarking on a quest to find a pharaoh's stolen treasure in the ancient temple ruins.
Last but not least is MINILAND. Known as the heart of every LEGOLAND Park, MINILAND beckons young explorers to venture into its interactive surrounds, where replicas of the Dubai skyline and other iconic landmarks of the Middle East can be found. This must-visit land has been constructed out of 20 million LEGO bricks, with Rovers able to build an ever-evolving skyline at the Build a City area, where a 10-metre play table challenges you to use hundreds of white LEGO bricks and tackle your imagination to create something new.
The fun continues at LEGOLAND Dubai
Dubai Parks and Resorts is made of up so much more than just LEGOLAND Dubai, with Rove At The Park being one of the hotels near LEGOLAND Dubai that give you the most convenient access to all your future encounters!
This amusement park is where Rovers will get to discover additional attractions and theme parks like Bollywood Parks, the LEGOLAND Water Park, MOTIONGATE Dubai, and Riverland Dubai. From Bollywood movie- and Hollywood movie-inspired attractions to slippery slides and riverside explorations, the fun certainly never ends at Dubai Parks and Resorts.
Book your stay at Rove At The Park and gear up for exhilarating new memories at LEGOLAND Dubai and beyond!