While Dubai might be referred to as a sandbox, it's most certainly a beach destination too! Jumeirah Beach is synonymous with sandy beaches and warm waters. Luckily for Rovers, there's a Rove hotel to meet your every travel requirement. On the hunt for seaside accommodation? You can check-in at one of the Rove hotels near Jumeirah Beach.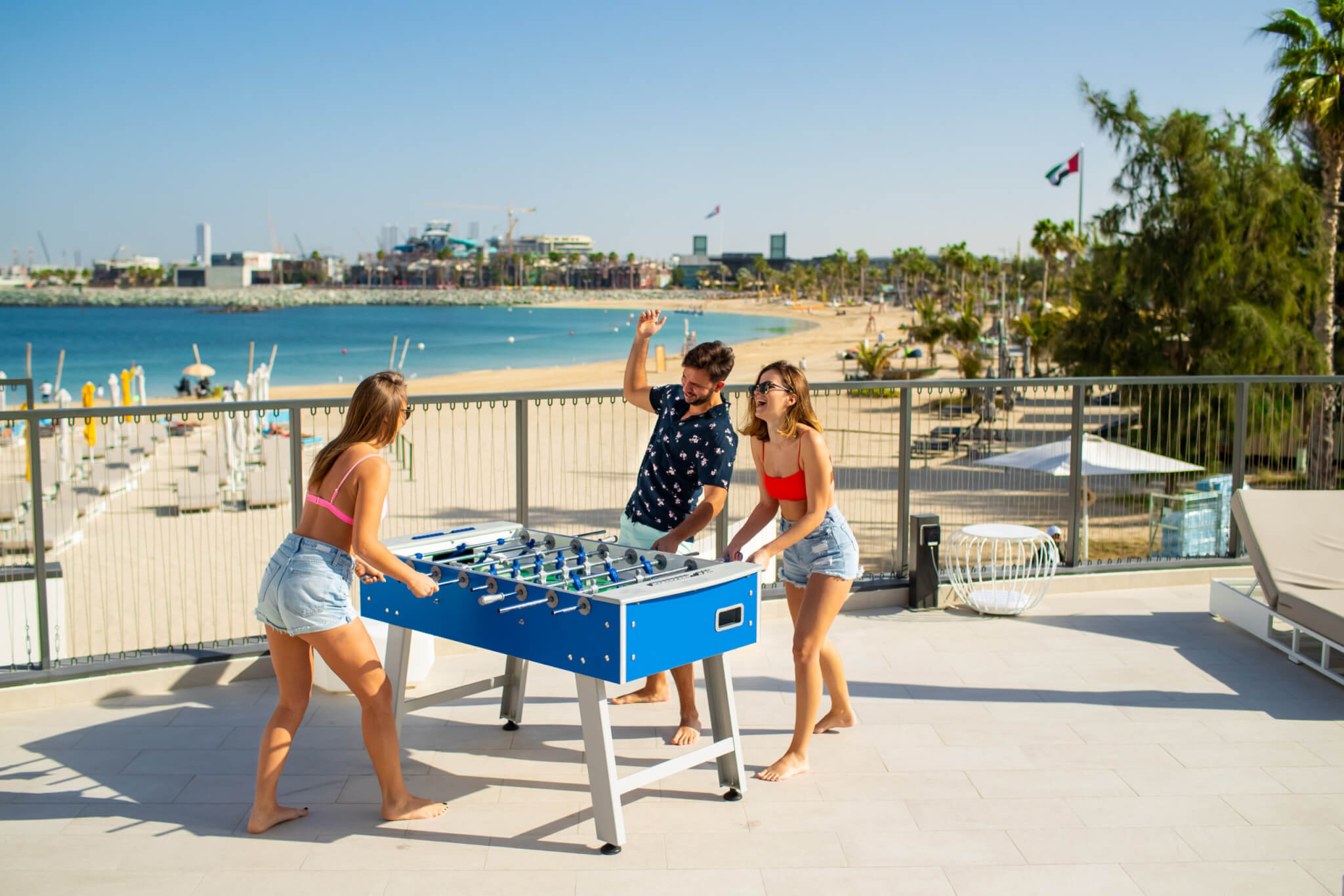 Jumeirah Beach
Jumeirah Beach is a public beach, complete with a playground and space to barbecue. Its white sandy shores are named after the district of Jumeirah. The coastline features views of the Burj Al Arab, plus the city's skyscrapers as a backdrop. 
Splash around in the waters of the Persian Gulf, which extends along the coast, connecting The Palm Jumeirah with Jumeirah Beach Residence. The beach isn't the only destination to visit in this area though. The Wild Wadi Water Park is one of the Middle East's biggest water parks and a fan favourite filled with adrenaline-inducing thrills.
Jumeirah's Madinat district is also close by, with restaurants and souks steeped in old-world style waiting to be explored. You can also hop on an abra ride, which is a traditional boat ride across the Dubai Creek. History enthusiasts may also want to check out the Jumeirah Archeological Site. 
For a moment of solace, visit the Jumeirah Mosque, open to all Rovers. The interior of the Jumeirah Mosque is influenced by the architecture of the Fatmids empire which dates back to 9th-century Egypt. The walls are decorated with Arabic writing and the floors are covered with a big, intricately embroidered carpet. The exterior features pink sandstone and multicoloured marble. The mosque has an engraved dome top featuring Arabic scriptures and stones with verses from the Quran. 
Jumeirah itself features a number of beaches aside from the Jumeirah Public Beach that you'll definitely want to visit. Here's our guide to some of the best beaches in Dubai.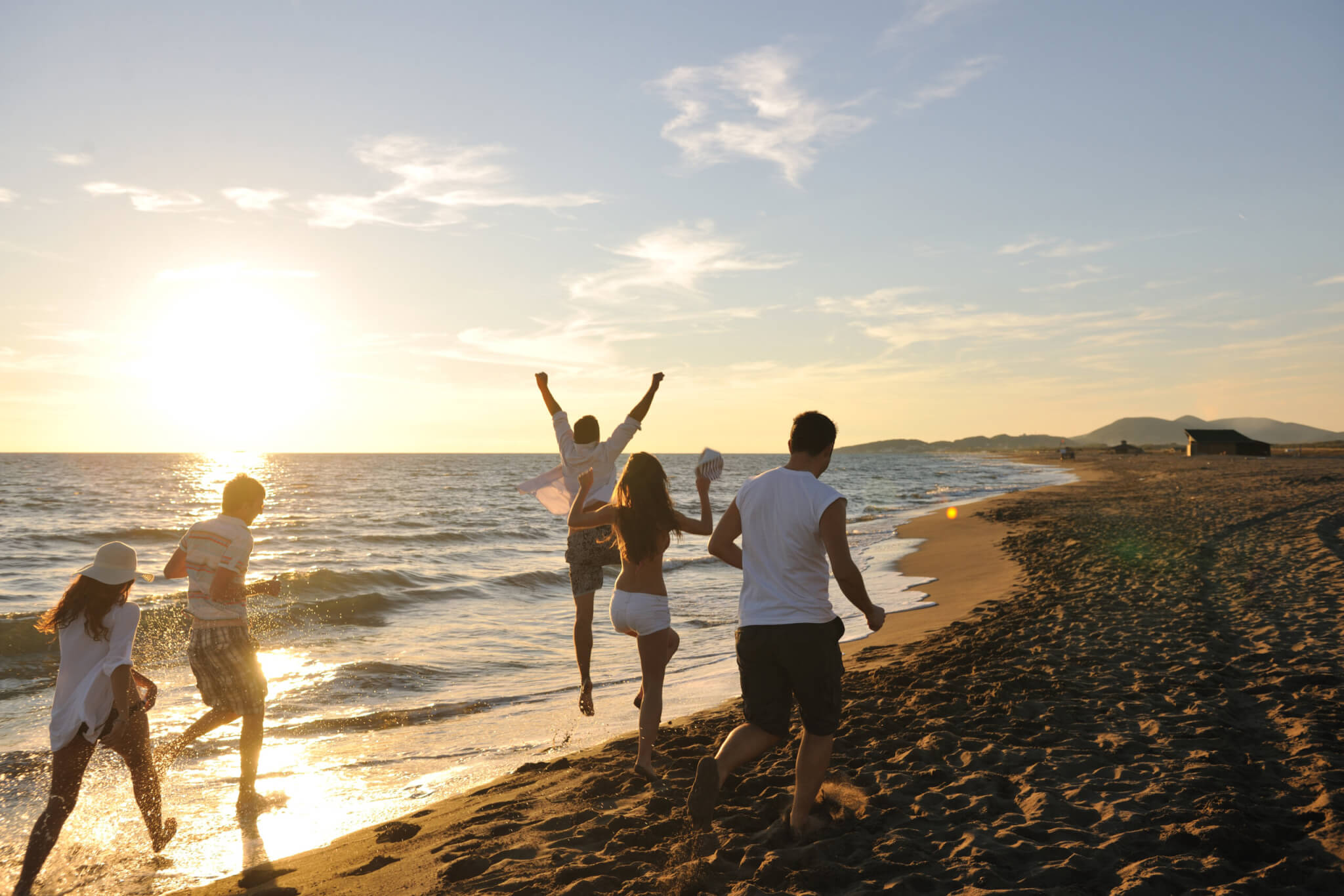 Take Your Pick from the Rove Hotels Near Jumeirah Beach
While all of Rove's 9 hotels situated throughout Dubai enable you to conveniently reach Jumeirah Beach with easily accessible transport routes, there are some hotels that are closer to others if you're planning on fully exploring Jumeirah Beach. Rove La Mer Beach, Rove City Walk, and Rove Dubai Marina are great options if you're on the hunt for hotels near Jumeirah Beach. Here's what you can expect from each:
Rove La Mer Beach

: Rove La Mer is a waterfront property and perfect for a beach holiday. Bask in the sunshine and luxury of this exclusive area and spend your time strolling along the promenade. 

Rove City Walk

: For a more diverse trip to Dubai, there's Rove City Walk which offers a laid-back city feel set in a contemporary setting. Spend your time shopping, dining out and being entertained, with the balmy beach only minutes away.

Rove Dubai Marina

: Located on the other end of the Jumeirah coastline is Rove Dubai Marina. This is our other waterfront property that boasts a relaxed feel and artistic edge. This is one of the prime hotels in Dubai marina. 
All Rover Rooms are equipped with the comforts and amenities that Rovers look forward to when staying with us. Your room features a designer mattress, a bathroom with a power rain shower, and tea- and coffee-making facilities for your convenience.
Book your Rover Room at one of our hotels near Jumeirah Beach and get ready to make your way down the shores of Dubai!