Nothing says "ultimate holiday mode" more than having private beach access from your accommodation of choice! Rove La Mer Beach offers Rovers a hotel stay like no other, where you can wake up and head down to the sandy shores of the Arabian Gulf coastline from our conveniently situated location. Enjoy private access to the beach and say goodbye to visiting public spots and competing for your spot under the sun!
Welcome to La Mer
Spend your time in Dubai doing more than the big city bucket list items. How about retreating to the shores where a laid-back feel embraces you? Come and cool off from the year-round sunshine that dons Dubai at the much-loved La Mer beach.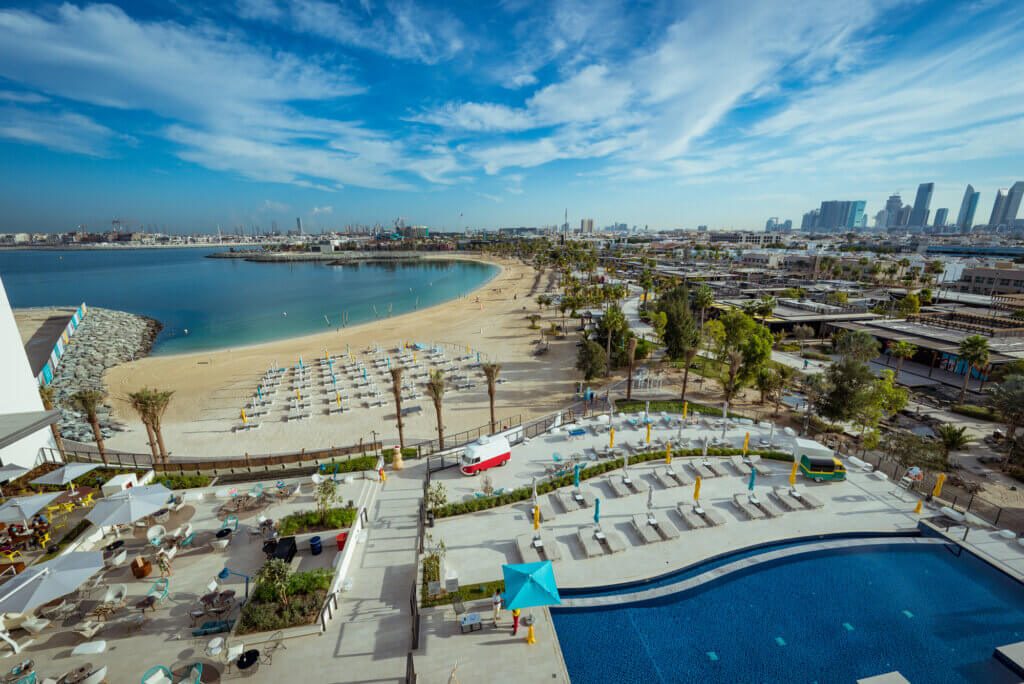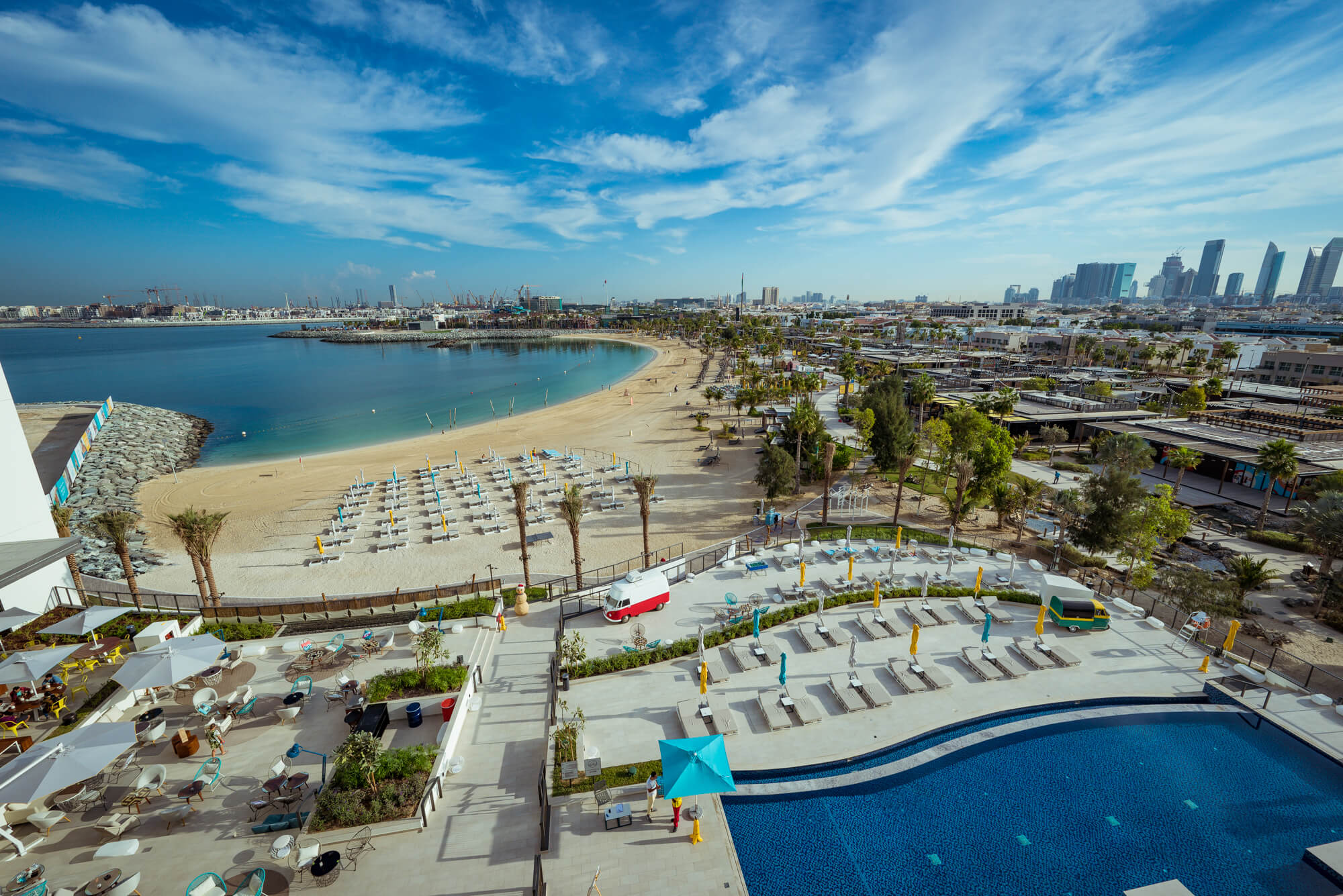 It comes as no surprise that La Mer is one of Dubai's best beachfront spots. Step into a palm-tree lined oasis with the glimmering backdrop of the City of Gold. It's the perfect place to swim, shop and dine. 
There's something for everyone at the shops in the breezy La Mer beachfront! Drop into a boutique for a unique item or trinket, or head over to familiar global brands for your makeup and clothing fix. Art lovers can head over to the La Mer Urban Complex, with designs inspired by modern pop art. 
Adventure-seekers can enjoy the waters in action on a kayak or paddleboard out at sea, or head over to Laguna Waterpark where there are heart-palpitating slides galore! From the slow tempo of the lazy river to the wave surfer and tube slides, you're sure to enjoy your time here, no matter your age. 
There is also a trampoline park situated in La Mer, so you can bounce around to your heart's content. Spend your time lounging around (or dipping in) the ocean waters, and then head to the promenade where restaurants and shops beckon you to explore. Whether you're in the mood for a cappuccino from the London black cab pop-up coffee shop, a scoop of ice cream from a waterfront vendor, a light bite or a full meal, La Mer has it all. 
Stay at Rove La Mer
Rove La Mer is situated on the water's edge, providing you with unadulterated private beach access. Your Rover Room will have everything you need for a comfortable stay. We also have an infinity pool with temperatures that adjust to the climate, so you can rest assured it'll be an enjoyable swim no matter the season. Prepare to wake up to sea or city views from your room's very own Juliette balcony, or head up to the terrace to capture covet-worthy content with a sundowner in hand. 
You'll have high-speed internet at the touch of a button, helping you plan your adventures in Dubai and share them with your friends and family. Rove has designer mattresses in each room to make sure you get a comfortable night's sleep and wake up feeling refreshed with a cup of tea or coffee that you can enjoy in the comfort of your room. If you need to store some extra snacks, you can do so in the mini-fridge in the room, or head down to our on-site restaurant, The Daily.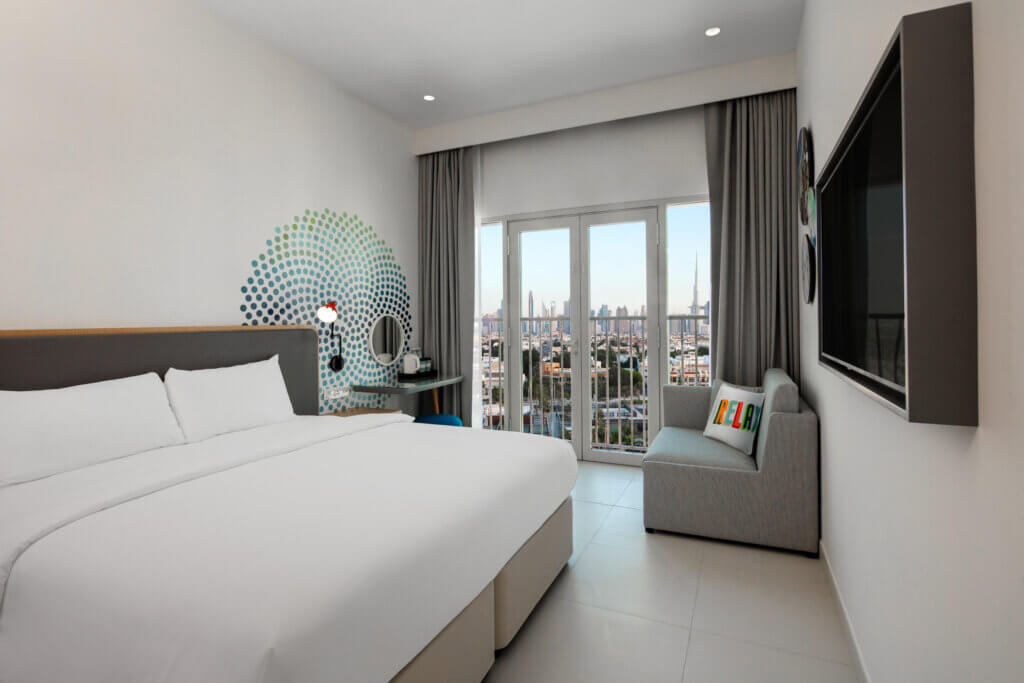 Book your Rover Room at Rove La Mer, pack your bags and get ready for a Rove stay with private beach access in Dubai!